Birdbox tutorial
By Linda Jacobs

This tutorial is on how to make an Animated Bird Box. I did not put in the final animated bird on this page because it is a big file, but you can go here to see it. Please fill free to email me with any question's on the tutorial or if you have any suggestions about making this tutorial easier to follow. This my first tut and do hope you will enjoy doing it.
The bird I used in this was from Deb's collection of bird kits. You can use any bird of your own choosing.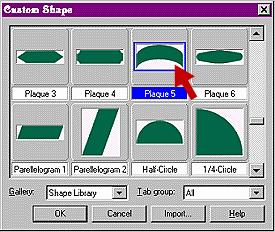 Open a new page with a size of approximately 300x300 pixels (I like to have a lot of space to work on) Select Path Drawing Tool, 3D, Custom Shapes, Plaque 5 with the border set at 15. Color isn't important at this time. Draw your shape.
Select Edit/Rotate & Flip and then click on "Flip Vertically".
Select Object/Convert Object Type and click on "From Path to Image".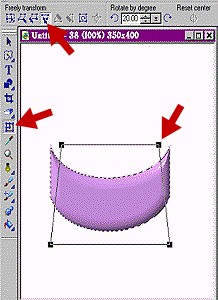 Click on Transform Tool and then on Perspective button, and move top part in a little to add a little perspective to the base.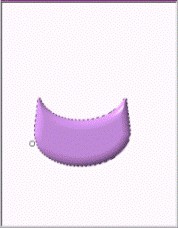 Click on Object Paint Eraser Tool size 10, and slightly round off sharp corners as shown in the image here.
To make the base lining go to Path Drawing Tool, Shape Oval. Then click on color and go to Gradient Fill.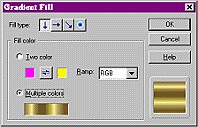 Click on Multiple colors and in next window click on Gold, then on OK, and OK again.
With an Ellipse shape, Set mode to 3D and Border somewhere between 10 and 15. Then draw shape about the size of top of base.
Then go to Web, Button Designer, Any Shape. Click on second button on the first row. (Feel free to change this if you like a different effect.)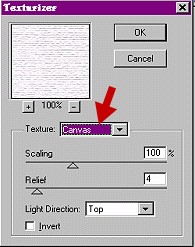 Go to Effect, Texture, Texturizer. Select Canvas. Click OK.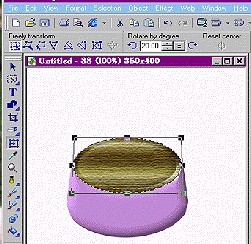 It this point you need to go to Object, Convert Object Type, From Path to Image. Duplicate your object 2 times, and move them both off of canvas. Go back to the orignal lining, select it again and resize to fit the base.
Then go to the Transform Tool and perspective button and bring top in a little just as you did with base earlier.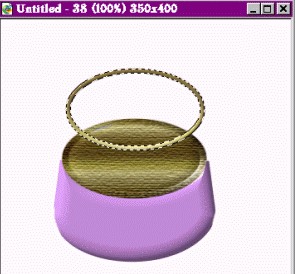 Select the Outline Drawing Tool. Shape Oval, Color gold (gradient), Mode 3D, Border about 2 or 3. Draw ring for base. Shape to fit.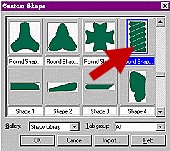 We're going to make the hinge now, so go back to Path Drawing Tool. Custom shape, and find Round shape 4. Click on it, and then on Ok.Color, gold. Mode 3D. Border about 10 to 12. Draw the shape on your canvas. Edit, Rotate & flip, 90 degrees. Resize to fit at the top edge of the the base of your box. Right click and send to the back.
This is what your base should look like. Now that we have completed the base of your birdbox, lets move on to the next page and next section.
Home Animations Terms Tutorials Links Awards
Copyright © 2001 All Rights Reserved
Linda J