:: Page 3 ::
Now we will animate our photo. Open your animation program.
You will see this window first. Click on the Animation Wizard button.

This window will pop up and you will click on the Add Image button.

Go to find your file where you saved your frames, and highlight them and click open.

Tip: Read note on screen shot.
Now this is what you will see.

Click Next.

Now this window opens, make sure that Photo-oriented is checked, and then click Next.

Now you will see this window, Donít worry about the time delay at this time. We can fix that later.

Click Next.

Now this is what you should see in your animation program. Here you can change your delay time, also you see your list of frames, and can preview your animation.
To change your delay time, just click on the frame you want to work with and then go to the delay time button and change the time setting. Here my first frame has a delay time of 100

In most caseís you want the first frame to have more time then the rest to make the movement more realistic. Try to set your delay time on all frames to make the movement as smooth as possible. You can check the movement times when previewing.

When you have all the delay times set the way you want them, you will then need to go to the optimizer wizard to optimize and save it. Click on the Optimize Tab.

This is the first window to open. Click on the wizard button.

This is the next window. Click Yes and Next.

This window is for setting the resolution. We will come back to that later . Let's see how big this will come out at the highest resolution.

Click Yes, then Next.

Next window to open.

Click Yes, Yes, Yes and then Next.

Now click Finish in this window.

Ok now this window pops up, and you can see how many Bytes your animation is. This one is a little too big so we need to go to try again button to bring the size down. This is where we will need to change the resolution, on our animation.
When you change your resolution on your animation, the quality will some times go down, so always remember to make your animation from the get go as small as you can and still have a nice animation, then when you optimize it the resolution does not have to be set so low.
Now save as, and you have your Animated Photo. Please feel free to email me if you have any question.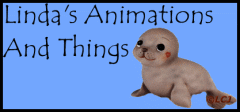 Copyright © 2002
Linda J